For 12 years, Invisible Children has been working together with communities in one of the most dangerous and forgotten regions of the planet. In that time, we've met some of the most determined and resilient heroes the world has ever known.
This holiday season, we want to introduce you to some of the central African heroes who are dedicating their lives to building a safer future for themselves and for those who will come after them. Heroes like the community leaders of Obo, Central African Republic (CAR).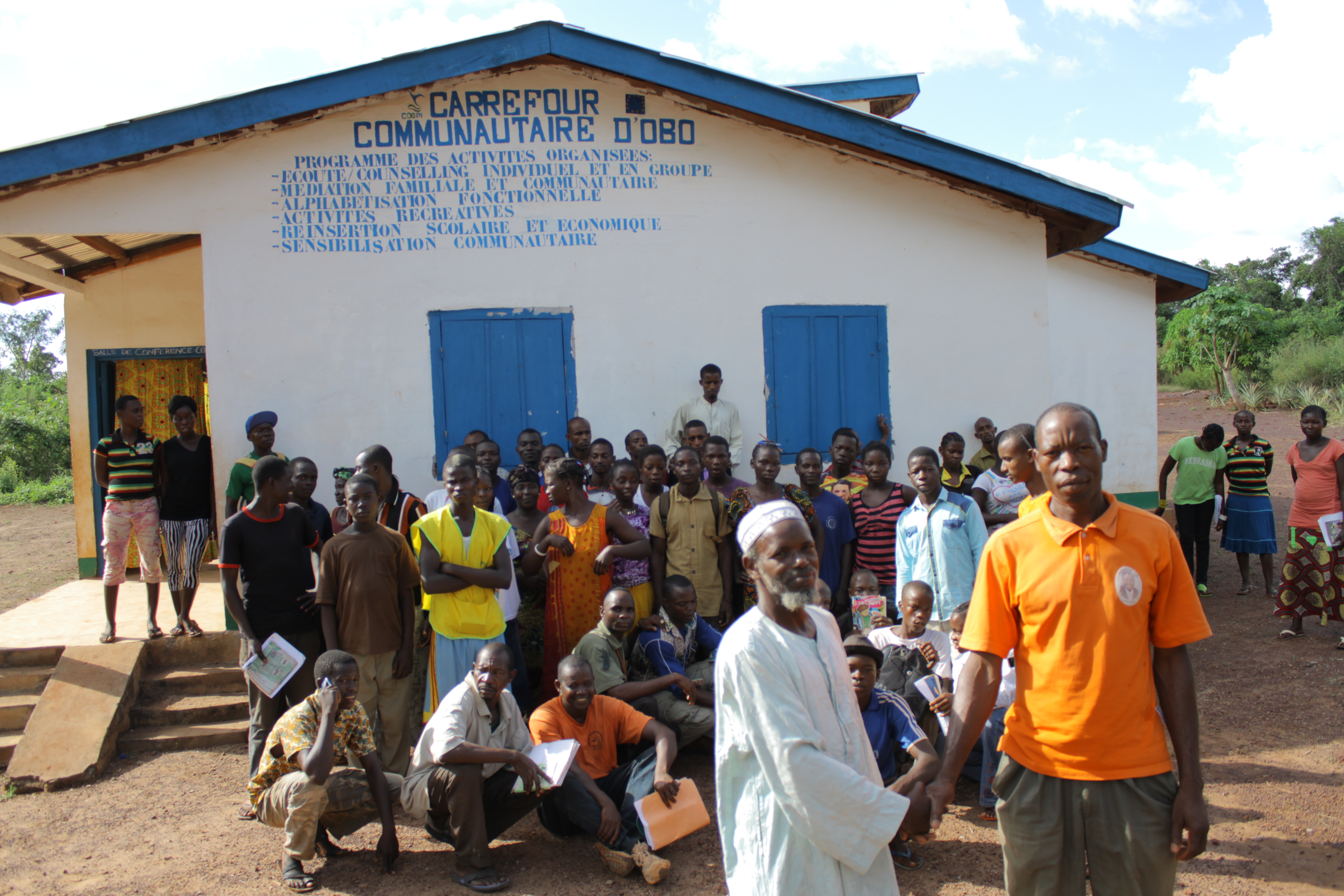 Obo is a small, remote town in the southeastern corner of CAR and home to most of our Invisible Children team in CAR. So, we've been able to work closely with community leaders and organizations in Obo for years, equipping them with tools like the Early Warning Radio Network, and FM Radio Programming that help them share important information that can enhance their safety. We've also worked extensively with the community to establish a local peace committee and we've trained civilians in everything from trauma healing to techniques for preventing violent conflict– like conflict mediation, rumor management, and social cohesion.
SUPPORT OUR TEAM AND PROGRAMS IN COMMUNITIES LIKE OBO, CAR.
In the last several months, armed groups from western and central CAR have begun to target communities like Obo in southeastern CAR; carrying out bold, violent attacks and often targeting people based on ethnicity, religion, and livelihood. Without basic protection, violence has left hundreds killed and thousands have been forced to flee their homes in 2017.
Beyond these immediate effects, the violence families are facing also has lasting and often devastating impacts. High levels of unresolved trauma and the specific targeting of certain groups can quickly deepen divides within communities and trap them in cycles of conflict and violence. Many communities in this region are almost totally cut off from the world around them, so they often lack the tools and mechanisms to effectively address the lasting impacts of violent incidents. So, a single violent incident can very quickly become much more.
But, while Obo's citizens continue to face the realities of the region's insecurity, the community has not experienced the kinds of brutal and widespread violence that many of its neighbors are facing. This is thanks, in large part, to brave community leaders who have taken proactive steps to preventing violence in powerful ways– supported by our Invisible Children team there.
In mid-July, as armed group violence continued to rise in southeastern CAR, a family of five was found murdered just outside of Obo. They were nomadic cattle herders from the Peuhl ethnic group, a minority group in the region, members of which have been targeted by armed groups and suspected to have been involved in violent attacks this year. This particular family was traveling through Obo grazing and selling their cows at the Obo market.
When the bodies of the family were discovered, tensions in Obo began to rise as people wondered who was responsible for the crime and if their own families were in danger. Recognizing that the fear and confusion surrounding this incident could lead to conflict and more violence, local authorities and other community leaders took some important steps to make sure their community is united and safe.
First, they formed a "rescue committee" ensuring that both the Christian and Muslim communities of Obo were represented in the search for answers. Together, this committee gathered information to learn more about what had happened, who was responsible, and whether or not others in their community were threatened.
The next day, leaders from across Obo gathered together to share information and explain what the "rescue committee" had discovered. Many of the leaders there had just recently participated in an Invisible Children workshop on managing the spread of rumors and were able to actively use the skills they had learned in the workshop to direct the meeting. As a result, the community was able to stop false rumors from spreading, create a plan to protect each other, and, ultimately, prevent violent responses.
The steps that heroes in Obo have taken are working because the community is united and equipped to address conflict and crises before they lead to violence. Today, Obo remains relatively peaceful and the community remains strong and resolve. Unfortunately, that peace is not guaranteed as long as Obo and other communities in southeastern CAR remain unprotected from the violent armed groups who exploit them. But the accomplishments of Obo's leaders are proof that investing in the ability of local communities to unite and prevent violence creates heroes. And it's those heroes who will end cycles of violence and bring lasting peace for future generations of central Africans.
All across central Africa, there are communities like Obo filled with brave local leaders who are determined not to let fear divide them and who fight tirelessly to keep each other safe. Their strength and resilience make them heroes. That's why we are committed to standing beside and investing in these heroes– and why we want you to join us.
HELP US SUPPORT HEROES WHO ARE STANDING AGAINST FEAR AND DIVISION.
GIVE TO SUPPORT INVISIBLE CHILDREN PROGRAMS TODAY.
As 2017 comes to an end, team up with the heroes of Obo and with us as we continue to invest in a safer and more peaceful future for every central African family. When you give to Invisible Children, you become the driving force behind programs, like local peace committees, and violence prevention trainings, that amplify the work of heroes on the front lines of ending violent conflict in central Africa.