Central Africa is home to some of the world's most coveted resources and most diverse and magnificent wildlife. The communities we work with in the Democratic Republic of Congo (DRC) and the Central African Republic (CAR) are scattered throughout thick forests where elephants, giraffes, and even the odd pangolin reside. But, with little to no governance, poaching and illegal wildlife trafficking is decimating the region's endangered species and has also become a driver of violent conflict which puts local families in danger.
Central African communities in and around protected areas, like DRC's Garamba National Park, often fall victim to violence at the hands of poachers and other armed groups participating in poaching. Over the years, reports from our Early Warning Radio Network have shows a clear correlation between the presence of Lord's Resistance Army (LRA) fighters on poaching missions and increased LRA attacks on local communities. Beyond this immediate threat, illegal wildlife trafficking is often a source of funding for armed groups like the LRA, with ivory sold or traded on the black market in exchange for supplies and weapons which are used against these same communities.
So, in order to effectively improve the safety of vulnerable communities in this area, illegal wildlife poaching and trafficking must be addressed. And to do that effectively, local communities must be engaged, supported, and equipped to become central agents in protecting the local wildlife. That's why we're working with local partners and international conservation experts to reimagine some of our most effective programs and adapting them to help prevent poaching and end the threat that related violence poses to communities.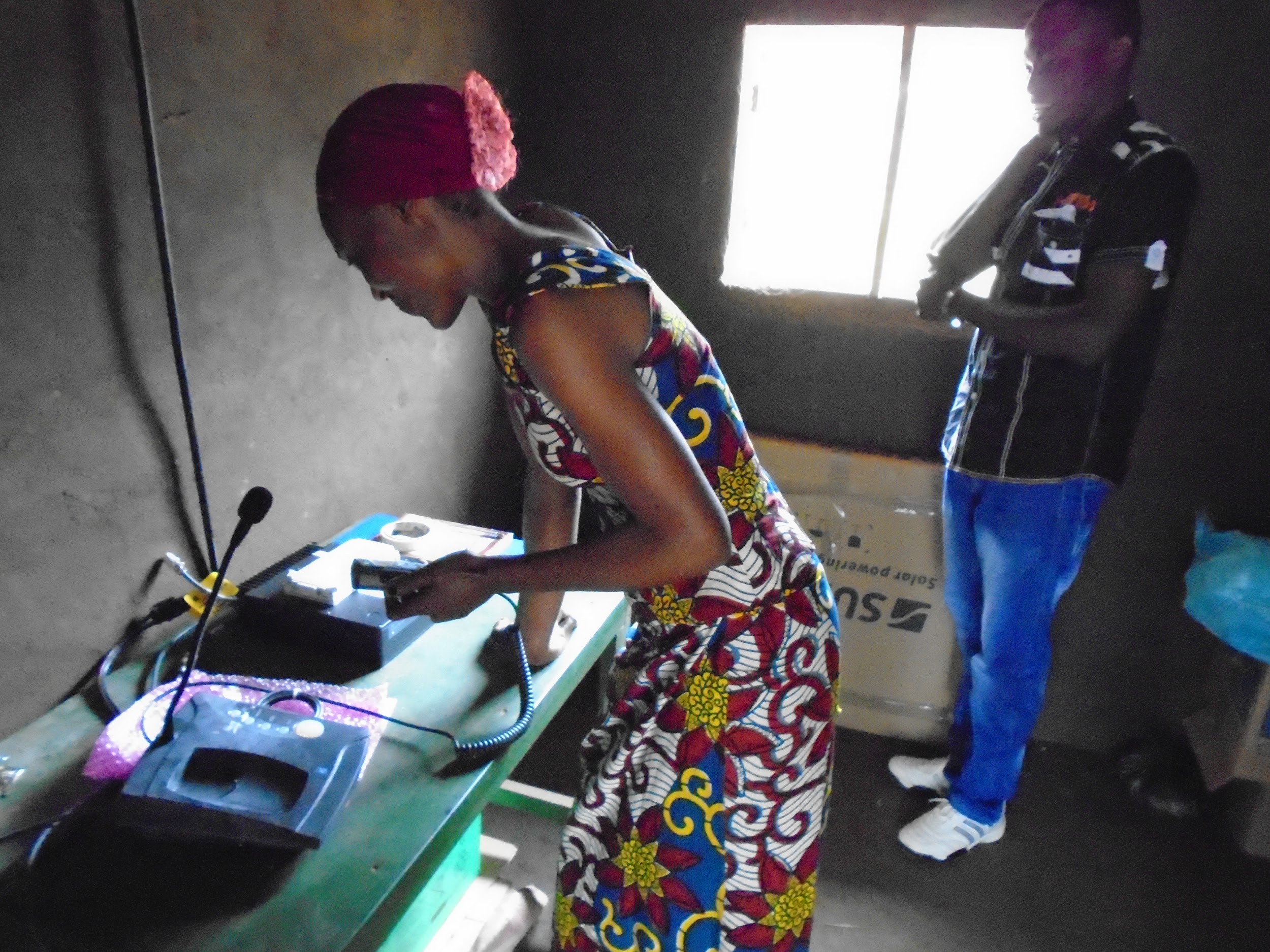 Expansion of the Early Warning Radio Network
For nearly a decade, our Early Warning Radio Network has helped make dozens of communities safer from LRA attacks by allowing them to report LRA activity to one another and with security actors who are able to use information from reports to more effectively protect communities and prevent violence. Today, we're expanding the network to allow the communities most impacted by the effects of wildlife trafficking to play a central role in ending it.
We're installing new Early Warning radios in strategically located communities which lie along historic trafficking routes and providing in-depth training on recognizing and safely reporting information about poaching and wildlife trafficking. Last summer, we installed the first of these Early Warning radios in a community along a common route into DRC's Garamba National Park used by Sudanese poachers. When the physical equipment for the radio was installed, we also trained radio operators in the community to identify signs of wildlife trafficking and to report detailed information about possible poaching groups. Already, this community has been able to share invaluable information that is helping conservation experts and security actors more effectively respond to and prevent poaching and its related violence.
Community Sensitization and Conservation Trainings
Our team and partners are also working to ensure that central African communities most impacted by poaching-related violence understand how supporting conservation efforts can help make their families safer and are equipped with the information they need to play a central role in challenging the harmful consequences of illegal wildlife trafficking. To do this, we've developed community conservation trainings, along with local partners and conservation efforts. Through these trainings we're helping to educate communities on the importance of conservation efforts and their role in protecting local wildlife.
More often than not, these isolated communities lack information about the rules around hunting and protected spaces like Garamba National Park. As a result, local hunters, providing for their families, often become "accidental poachers." As part of the trainings, we educate communities on the borders and hunting rules of protected areas.
Alternative Livelihoods and Income Generating Activities.
Because communities are often heavily dependent on hunting to feed their families, and that can so easily cross the line into poaching, we also discuss alternative livelihoods like fishing and farming as part of community conservation trainings in order to ensure that conservation does not become a burden to local communities. We also work with local partners to fund income generating activities so that members of local communities have the opportunity to spearhead business initiatives that allow them to provide for their families in new ways.
We believe that it's possible for communities in central Africa, and around the world to have access to basic safety and that people and the planet can thrive together. So, we're excited to team up with experts and local communities in these new and exciting ways to help protect families and their environment for a safer and brighter future for all.
JOIN US. GIVE TO SUPPORT PROGRAMS THAT PREVENT VIOLENCE AND PROTECT WILDLIFE IN CENTRAL AFRICA TODAY.